Located at the heart of Sub-Saharan Africa's leading new city, Eneo at Tatu Central is the hotbed for a new kind of corporate culture, away from inner city congestion and pollution.
Eneo at Tatu Central offers so much more than corporate office or retail space. Designed according to sustainable best practices, it harmonizes the work, wellness and social lifestyle created in Tatu City through carefully considered spaces in a single precinct, close to transportation hubs, executive and affordable housing and local and international schools.
With a strong emphasis on providing a holistic, more efficient commercial environment, Eneo at Tatu Central anchors the business district of Tatu City.
EXPLORE ENEO AT
TATU CITY
Eneo at Tatu Central is your future state-of-the-art office space, strategically located in Tatu City. Tatu City is located in Nairobi's rapidly expanding northeastern growth corridor, accessible from Thika Superhighway, Northern & Eastern Bypasses and Kiambu Road.
• 30 minutes from Westlands
• 35 minutes from Jomo Kenyatta International Airport
• 40 minutes from Nairobi CBD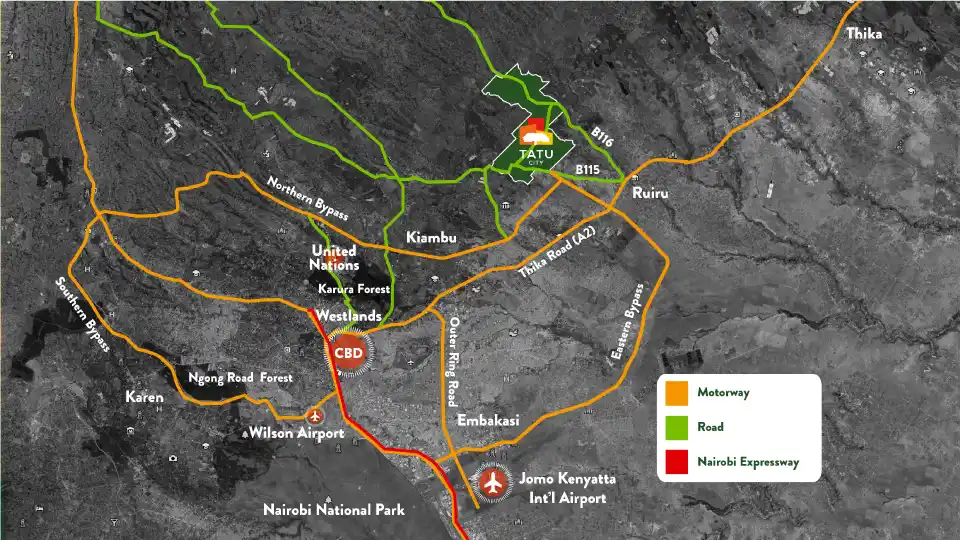 Tatu City is a 5,000-acre new city on Nairobi's doorstep with homes, schools, businesses, a shopping district, medical clinic, nature areas and recreation for more than 250,000 residents and tens of thousands of day visitors.
It represents a new way of living and thinking for all Kenyans in a live, work and play environment that is free from traffic congestion and long-distance commuting.
Tatu City's schools educate thousands of students daily, a range of homes suits all incomes, and more than 70 businesses thrive in the country's first operational Special Economic Zone.
EXISTING DEVELOPMENT AT
TATU CITY
THEY ALSO CHOSE
TATU CITY
WHY ESTABLISH YOUR BUSINESS IN
TATU CITY?
Tatu City is Kenya's first operational Special Economic Zone ("SEZ"), providing reduced corporate taxes, zero-rated VAT and import duty exemptions, among other benefits.
A private development, Tatu City has been endorsed by the Government of Kenya to support manufacturing, industry and employment through a range of special fiscal and non-fiscal incentives, including:
• Reduced corporate income tax of 10% in the first 10 years and 15% in the next 10 years, against a normal corporate tax rate of 30%
• Low withholding tax of 5% on borrowing from non-residents (standard rate 15%), management and professional fees by non-resident companies (standard rate 20%) and royalties to residents (standard rate 20%). Withholding tax on dividends paid by SEZ Enterprises to any non-resident person is zero rated
• VAT is zero rated (the standard VAT rate is 16%)
• Stamp duty is zero rated (standard land rate 4%)
• Import duty exemption (usually 30%)
• 100% capital investment deduction allowance for an investment in an SEZ
Non-fiscal incentives include:
• The availability of all government services under one roof
• Approval of SEZ License applications within 45 days
• Import inspection within Tatu City Customs Controlled Area
• Special planning area with planning autonomy under the Physical and Land Use Planning Act. All developments having to comply with Tatu City development codes
• Tatu City is regarded as critical infrastructure and as such receives security from the Critical Infrastructure Protection Unit (CIPU) of the National Police Service
• Expatriate staff quota up to 20% of total work force with work permits guaranteed
• Tatu City is earmarked as a Project of Strategic National Importance with development permissions issued by
DESIGN FEATURES
Eneo at Tatu Central is climatically conceptualised to optimise the use of natural elements whilst ensuring the best comfort levels. The north-south facades are selfshaded with integrated perforated aluminum screens protecting the east-west facades. Deep floor plates wrap around efficient cores to promote maximum flexibility in tenancy layouts and future space planning.
The design incorporates the extensive use of natural elements with the two towers set on a unified, stone clad retail podium that steps down into a pedestrian walkway in a verdant setting.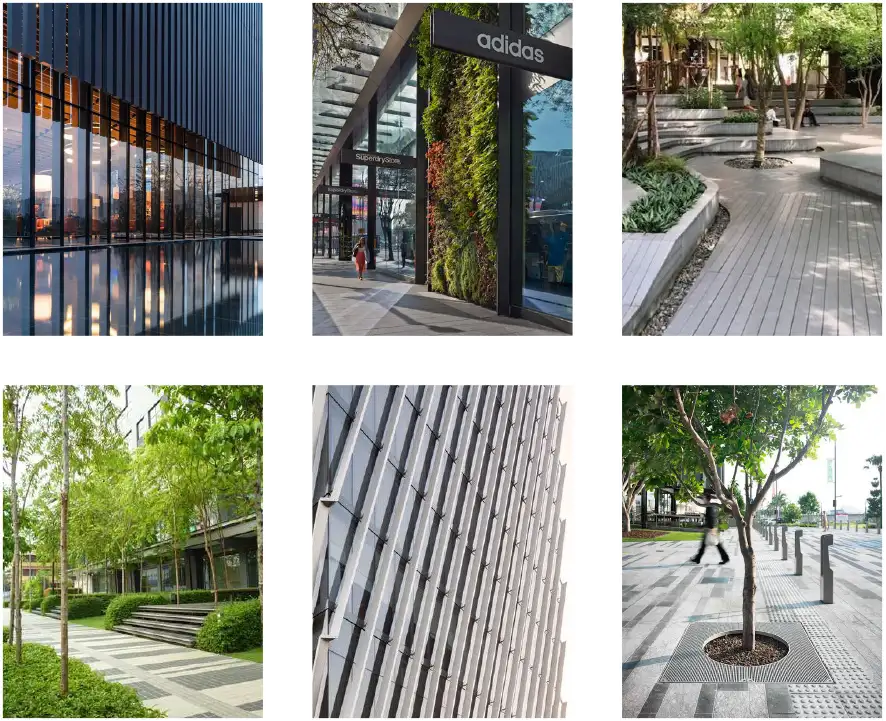 EMPHASIS ON SUSTAINABILITY
Eneo at Tatu Central is IFC EDGE ("Excellence in Design for Greater Efficiencies") certified, which means the developers reduced the building's energy and water consumption by 20% while lowering greenhouse gas emissions.
A range of design features promote a lower environmental impact, including self-shading
façades, high-performance glass in some areas, natural ventilation, bicycle parking, energy efficient lighting, water efficient sanitary ware, rainwater harvesting and waste recycling.
• Ample collaboration, pause, social and meeting areas
• On-site restaurants and canteen
• On-site grocery retailer
• Shops
• Landscaped roof with sun control for recreational activities and functions
• In close proximity to transport hub
• Generator (back-up power)
• Future proof for PV solar
• Potable water storage
• Fire water storage
• Loading yard
• Wide roads
• Wi-Fi
The development of Eneo at Tatu balances environmental considerations with economical, practical and social objectives through a variety of sustainable initiatives and corporate social investment programmes to make a difference where it matters most.
Sustainability features include water efficient sanitary ware, energy efficient lighting and the use of natural light to reduce electricity consumption, solar panels, as well as the introduction of a rainwater reticulation system.
As the developer of Eneo at Tatu City, GREA further supports the Shamas Rugby Foundation, a sport for development organization founded in 2010 that uses rugby to promote the holistic development of underprivileged children and youth in Kenya.
A long-term focus for GREA is the support and promotion of women in the built environment. GREA will continue to work closely with BuildHer to equip disadvantaged women in Kenya with accredited construction skills such as carpentry and joinery, painting and decorating as well as financial planning and life skills.
Eneo at Tatu Central is the latest in a strategic partnership between Gateway Real Estate Africa ("GREA") and Rendeavour, which spans commercial, warehousing and logistics developments at Rendeavour's new cities in East and West Africa.
DISCLAIMER
This website is for general informative purposes only and describes the design intent of the proposed development. Whilst every effort has been made to ensure its accuracy, we accept no liability whatsoever for any direct or consequential loss arising from its use. The details represented herein are not an offer or contract, nor part of one. the images or photos show only certain parts of the property as they are proposed to be developed. Areas, measurements and distances given are approximate only, and should be confirmed through inspection of the premises. Any reference to alterations to, or use of, any part of the property does not mean that any necessary planning, building regulations or other consent has yet been obtained. A buyer or lessee must find out by inspection or in other ways that these matters have been properly dealt with and that all information is correct. This document may not be reproduced or quoted in part or in whole, nor may it be used as a basis for any agreement. The content is strictly copyright and reproduction of the whole or part of it in any form is prohibited without written permission. All Rights Reserved.